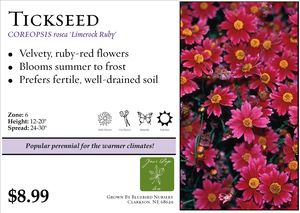 Plant Bench Cards from Bluebird Nursery
Authorized customers can access our plant database to create customized bench cards for more than 2,000 plants we sell. The cards can be customized by adding your logo, changing the plant description, promotional text and price. The cards can be printed by you or ordered online. If you would like access to this customer functionality, please send us an e-mail, sales@bluebirdnursery.com, or give us a call, 1-800-356-9164.
Order Cards
You can order the cards.  Cards will ship within two business days.  Prices will be displayed after card sizes and quantities have been established.